This is one of the most useful features offered by iOS 5 where you are allowed to create keyboard shortcuts on iPhone, iPad, iPod Touch. Using this feature, you can create a shortcut for the words, phrases, sentences you use very often.
For an instance, you know that you use "Oh my God!" a lot, so how about creating a keyboard shortcut that whenever you type OMG it will let you use "Oh my God!". Cool, right?
And once you are done with creating shortcuts, you can use them while texting, emailing, making notes. To be precise, these keyboard shortcuts can be used whenever you wish to do some typing on your iOS device.
Steps To Create Keyboard Shortcuts On iPhone, iPad
Navigate to Settings > General > Keyboard
Now scroll down and spot Shortcuts option and then tap on Add New Shortcut button
You will see two fields there. One will let you type in Phrase and the other one will ask you to enter the Shortcut that you want to use as for that phrase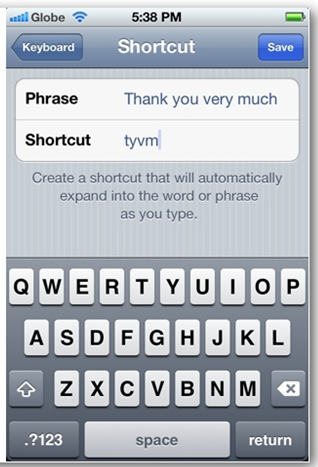 Once you are done creating your shortcut, tap on Save button
Now follow the same steps to add as many shortcuts as you want. And make sure that you tap on Save button after the creation of each shortcut
Steps To Use Keyboard Shortcuts In Texts, Emails, Notes
We are done with the creation part. It is time to use them.
Now, I am assuming that you have created a shortcut namely WTF for What The FISH
In order to use it, all you need to do is type in WTF while texting and you will see a box flashing What The FISH
If you want to use that, just tap on it which would replace your shortcut with the flashed phrase
The same thing would happen while you are typing in an email or making a note. Whenever you would use the shortcut, it would suggest you the phrase. If you are cool with it, just tap on it
This is a great way to save time and efforts while you are on typing business on your iPhone, iPad or iPod Touch.