Haier has launched its very own portable media player recently, namely Haier HV18A. It offers you with all your music and video needs that any other portable mp3 – video player (media player) is capable of. HV18A is available in 4 GB and 8 GB versions.
Apart from these lineaments, this mp3 player by Haier features in built FM Radio player and voice recorder. This media player has got amazingly gorgeous looks with touch sensitive buttons. It is a killer itself by its price (very much affordable).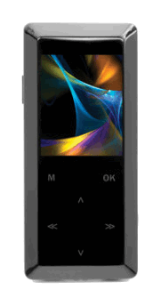 Below are the specifications of Haier HV18A media player:
1.8″ TFT LCD full-color display
Built-in 4GB memory can store up to 1,000 songs
30 hour song playback and 5 hour video playback
Lighted touch panel keyboard
Plays music, video, photos
Music Format: MP3, WMA, AAC, WAV
FM tuner and Voice Recorder
Capacities: 4GB and 8GB
Integrated lithium polymer rechargeable battery
Price Range: $45-$60
Haier HV18A is an affordable media player which offers almost all the features that a music lover would look for. This mp3 player will surely overwhelm you.