The conceptual design of Google Touch Screen tablet PC / computer powered by Google Chrome OS. Glen Murphy, Google Chrome's UI lead designer is out with few concept designs of this Google tablet PC.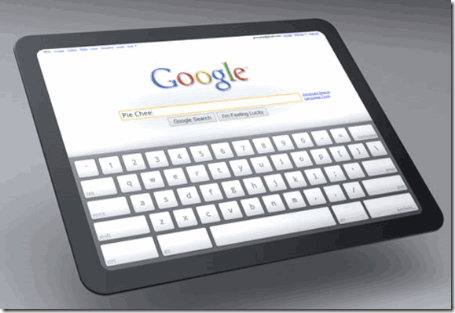 This year, tablet PCs and ebook readers seem to have captured the markets. Its not been long that Apple has introduced iPad and they believe that their tablet PC will change the way people compute.
Finally people will get to witness the Google Chrome OS on Google tablet PC to experience the ultimate touch screen computing. Apple VS Google, hmmm this is surely a battle to see. If Apple has got experience to attract customers, then Google has got technology directed by vision.
This is not just a battle between two giants, in fact this is going to bring some tides in the world market of tablet PCs. Glen Murphy and his team have showcased some of their concept images and video, which is sheer innovative and seem to steal every sight.
Go Google Go!