The market of smartphones have gone super hot as the quad core processors are powering up more and more devices. Whether its Apple, Samsung, Sony, LG, HTC or any other manufacturer, everybody has been trying hard to make their phones more powerful.
In this post, we would try to get you the clear picture of these smartphones so that if you going to opt a smartphone (any of these), we want you to make a right decision.
Lets start with the comparison between Google Nexus 4, Sony Xperia Z and Apple iPhone 5.
Processor
Sony Xperia Z runs on 1.5 GHz Krait Quad-core processor. Whereas, Apple iPhone 5 is powered by its line of A6 processor. This one is a Apple A6 quad core processor. And on the other hand, Google Nexus 4 runs on 1.5 GHz Quad Core Snapdragon S4 processor. Technically speaking, there isn't much of a difference between the processors of all these smartphones.
Display 
Xperia Z shows up with a 5 inch super LCD3 capacitive touchscreen with picture resolution of 1080 x 1920 pixels. While the Nexus 4 features a 4.7 inch IPS display. But the game is won by iPhone 5 by its 4 inch IPD LCD Retina display. No matter if you are an Apple fan or not, you would fall in love with the display screen of iPhone 5.
Memory and RAM
For me, storage hasn't been the major game changer (but it does have a part to play in your decision). Nexus 4 has two models, one with 8GB of internal storage and the other with 16 GB. As we all know, Apple comes without a microSD slot and with in built storages of 16, 32 and 64 GB, it gives handful of options to the buyer.
And on the other hand, Xperia Z has a micro SD slot and expandable upto 32GB and in built memory of 16GB. And all these smartphones run on 2 GB RAM.
Camera
Xperia Z excels as it features 13.1 MP camera with a resolution of 4128×3096 pixels and LED flash. It also has a front camera of 2.2 MP. Both, iPhone 5 and Nexus 4 feature 8MP camera. On paper, Xperia Z is a clear winner. But its not just the Mega Pixels which makes a camera better, its the quality. So check it out at the stores.
Below table would make the picture a little bit clearer.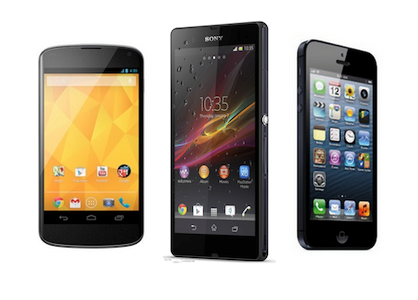 LG Nexus 4 / Google Nexus 4 vs Samsung Galaxy S3 vs iPhone 5 – Compare Specs
Specifications
Google Nexus 4
Sony Xperia Z
Apple iPhone 5

Dimensions
133.9 x 68.7 x 9.1 mm
143 x 70.5 x 9.1 mm
123.8 x 58.6 x 7.6 mm
Weight
139 grams
140 grams
112 grams
Operating System
Android OS, v4.1.1 (Jelly Bean)
Android OS, v4.1.1 (Jelly Bean)
iOS 6
Processor
1.5 GHz Quad Core Snapdragon S4
Quad-core 1.5 GHz Krait
Apple A6 quad core processor
Display
4.7 inches IPS display
5 inch Super LCD3 capacitive touchscreen
4-inch IPS LCD
Resolution
720 x 1280 pixels
1080 x 1920 pixels
1,136 x 640 pixels
Camera
8 MP and 1.3 MP secondary camera
8 MP, 3264×2448 pixels,autofocus with a 2.1 MP secondary camera
8 megapixel AF with flash and f/2.4 aperture with secondary "FaceTime HD" at 720p
Flash Type
LED flash
LED Flash
LED flash
Video fps
30 frames
30 frames
30 frames
Video
1080p HD
1080p HD
1080p HD
Memory
In built 8 / 16 GB
Built in 16 GB with micro SD slot and
expandable upto 32GB
Built in 16 GB / 32 GB / 64 GB
RAM
1 GB
2 GB
1 GB
Battery
Li-Ion 2100 mAh
Non-removable Li-Po 2020 mAh battery
Up to 8 hours talk time on 3G
Up to 8 hours data on 3G
Up to 8 hours data on LTE
Up to 10 hours data on WiFi
Up to 40 hours audio
Up to 10 hours video
Up to 225 hours on standby
Design
Candybar
Candybar
Candybar