Android has been ruling the smartphone and tablet PC market like a king. Many OS have come and go, and Android stayed right up there. Here is the newest entry in the block, TabCo OS powered on Fusion Garage's Grid 10.
Yes, this is Fusion Garage who were responsible for the infamous JooJoo tablet. But they seemed to have locked and lost their past and come up with the brand new OS named, TabCo. And here is its first tablet PC Grid 10.
The most interesting fact about Grid 10 is the fact that it supports Android apps on it. The reason which stops most of the users to think of a new mobile OS is that it wont offer good enough apps. Since Grid 10 lets you use Android apps on TabCo, you can make the best of this OS. Although you can run Android apps on it but you cannot access Android market from this TabCo tablet PC.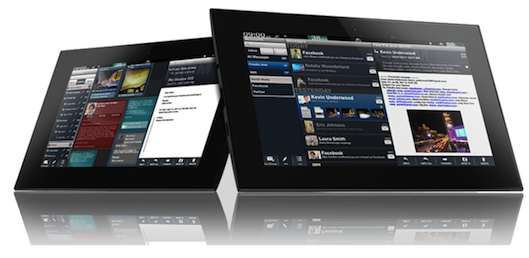 Specifications of Grid 10 powered by TabCo
1.2Ghz Dual Core Nvidia Tegra II
10.1 inch TFT LCD with 4 points Capacitive Touch Panel
Picture resolution of 1366 x 768 pixels
512 MB RAM
16 GB Storage
1.3 MP front facing camera
Grid OS
Built in microphone and 2 loudspeakers
WiFi and Bluetooth 2.1
GPS
5800 mAh Battery
Dimensions: 274.2 x 173.5 x 13.9mm
Weighs 690 grams
Fusion Garage's Grid 10 powered by TabCo would be available in the markets from Q4 of this year with a price tag of $499. If you are looking for fresh and different experience, then this TabCo powered tablet PC is just what you have been looking for. It has so many features that would amaze you which include gestures, interface, predictive features and much more. But only time can unveil its real picture.