With the time technology is also moving at lightening speed. We have witnessed the era of transformation of desktops to laptops and laptops shrinking to notepads. Now, get ready for Multitouch Laptops/Notebooks. Fujitsu has realases its LifeBook T5010. It is facilitated with a 13.3 inch screen which supports a two-finger touch for zooming and panning of pictures and movies.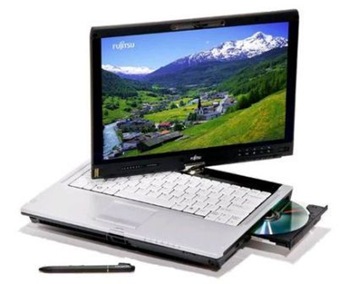 Lifebook is an amazing Convertible Tablet PC of its own kind. But what exactly do you mean by a Convertible Tablet PC? Fujitsu Lifebook T510 can be transformed from a standard notebook to a tablet within a blink of an eye. You can either use your fingers or a pen (stylus) to make use of this innovative touch screen tablet cum notebook.
Below are the features of this innovate invention and get amazed:
NEW optional dual digitizer (active digitizer/capacitive touch)
Intel(R) Core(TM) 2 Duo processor technology
Convertible from standard notebook to a tablet and it is also the industry's first bi-directional swivel hinge.
13.3-inch mercury-free WXGA bright LED backlight LCD
It weighs about 4.5 pounds.
It facilitates an optical drive or optional second battery.
It is also facilitated with integrated broadband connections.
Full-size, spill-resistant keyboard with touchpad
Integrated webcam with dual digital
microphones
It is also provided with SmartCard slot, HDD password protection, security panel, BIOS and fingerprint sensor.
You can own the new Fujitsu LifeBook T5010 Dual Digitizer for $1,859. And this Convertible Tablet PC is undoubtedly one of the biggest invention of the year.