As a promotional offer O&O Software is giving away the free download of full version O&O DriveLED 3 with activation / license / serial key code. The Genuine license serial key of full version of O&O DriveLED 3 would cost you $30.
O&O DriveLED 3 is actually a program meant to keep an eye and monitor all the internal hard disks on your computer. It is a great program as it tells you when you actually need to take the backups of the data on your computer. It means that this HDD monitor tool informs you when your hard drive is about to loose its life and crash.
Below is the step by step procedure to avail the free activation / license key code to download full version of O&O DriveLED 3 for free:
Step 1: Visit the promotional page.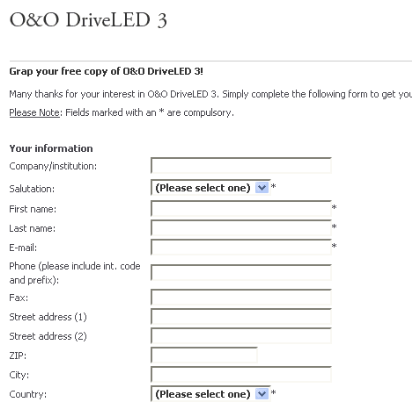 Step 2: Fill the form completely and it will send you the serial / activation code key to the mentioned mail ID.
Step 3: Now, click HERE and enter you email ID and the license code that you received in your email.
Step 4: Once you install the program on your computer, use the sent serial code to activate it.