Seems like the current age does not like wires and this is the reason that they look for wireless solutions for almost each and everything which include Internet, keyboard, mouse, even web cam. So we give you the best Bluetooth web camera in the market. And I'm sure that you would like these wireless web cams.
All you need is Bluetooth connectivity, which every modern day laptop has. And you can start using the Bluetooth web cam. Basically, the laptop camera does all the required for you. But if you are still so, here is one for you.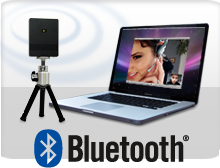 Best Bluetooth Web Camera
Ecamm BT1 Wireless Camera
Basically, the laptop camera does the required on your Mac. This wireless web cam would let you cover all the directions. It comes with a tri-pod which lets you position your cam perfectly. Below are some of the features of Ecamm BT1 wireless cam:
640×480 H.264 video and 48 kHz AAC audio
Compact 2″ x 2½" x 5/8″ design
Stereo microphone
4 hour talk time
10 – 30 foot wireless range
Standard tripod mounting screw
It is right that, all the major vendors did not yet get into this sort of web cams, but surely this is the one for the coming times. Soon and surely, you would be seeing the market full of such Bluetooth web cams and wireless web cameras.