Have you ever used or seen or at least read about a smart phone which can simply switch from Windows OS to Android? Is your mind jangling now? I know it is. A Chinese company Sunno has come up with such technology which lets you dual boot Windows Mobile and Android in a single phone.
Sunno S880 is a smart phone which is in extreme buzz. It is capable of being switched from Windows OS to Andriod, which even the Apple iPhone is not capable of. Apart, from having this unusual and unbelievable feature, it has sleek looks with eye popping styling.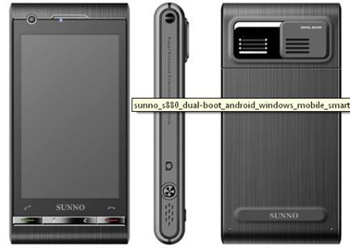 If you are curious to know its other features, then below are some:
Powered by 806MHZ processor
Wide 3.6-inch WVGA display
8 MP camera capable of capturing high-quality images
256/128MB RAM
GPS and Wi-Fi Connectivity
Sunno S880 is in its finishing stage and is expected to be launched by the coming October. This is an absolute new breed of smartphone and is expected to alter the statistics of the smartphone market. And it is expected that its few more features will be revealed as the time passes. So keep waiting for updates.