People tagged the news of T-Modile Android tablet PC as rumours, and every body thought so. Here is Dell Streak 7 T-Mobile's new tablet that many of us were waiting for.
After 5 inch tablet by Dell, here is the 7 inch Android tablet PC, Dell Streak 7. This T-Mobile tablet PC has got real power as it runs on Dual Core Processor.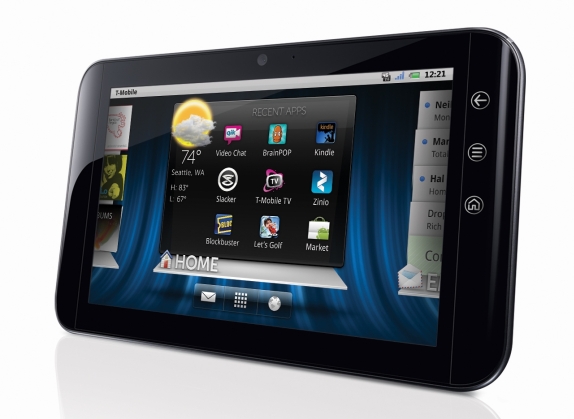 It is neither huge nor small. So whether it would your gaming activities or your reading device, Streak 7 is one amazing tablet PC for you.
Here are the specifications of Dell Streak 7, Android tablet PC:
nVidia Tegra T20 Dual Core Processor
7?-inch WVGA Capacitive touch screen with Gorilla Glass and picture resolution of 800 x 480 pixels
16 GB or 32GB internal memory 
Android 2.2 OS (can be upgraded)
1.3 MP camera in the front
5 MP rear camera with Flash
Supports Adobe Flash 10.1
Bluetooth 2.1, Wi-Fi 802.11 b/g/n
Dimensions: 199.9 x 199.8 x 12.4mm
Weight: 450g
Network: T-Mobile HSPA+ @2100/1900/AWS/850
Dell Streak 7 tablet would have a price tag of $200 after a $50 mail-in rebate and T-Mobile contract for 2 years. But, if you wish to buy this T-Mobile tablet PC, it would cost you around $450. On paper, Dell Streak 7 looks amazing, but only time could say it could face the heat of other couterparts.