Who doesn't like Comics? I know it isn't a million dollar question, but its surely a tough one. If you are a comics fan, then you would love to have them on your Android device.
Currently, there are number of free Android apps which offer free comics, but this app (that we would be talking about in this post) has much more to offer.
We have already shared a pretty decent list of free Comics book apps for Android. With this app, the list gets a new member for itself.
The name of this app is Comics by comiXology. This is surely one of the best free comics app for Android with over 20,000 comics available in its comics store. And if you are a free stuff fan, then its 600 free comics are good enough to cater to your Comics love. And these comics (free and paid) cover all the genres.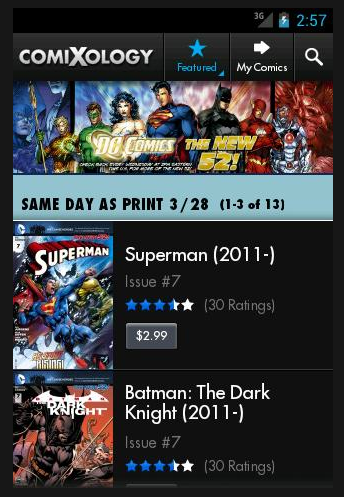 You will love the way content is placed as it wont cause you any problem while reading. And its user interface is absolute bliss. You can find the most popular comics here, and the most recently added ones too. Searching comics on this app is a kid's play.
 The titles available include almost the entire library of DC and Marvel characters, so you will find the most popular superheroes.
If you decide to buy a comic but you still need something to take the plunge, do not worry because the application gives you access to fragments of it to have a look. Hence this app ensures that you do not end up wasting your money.
Its a pretty lovely app for a comic lover having an Android device. Do check it!