How often you have wasted your time in downloading the same files more than once from Internet? I know, it must have happened many a times.  Clone Spy is a free program which lets you search for all such duplicate files so that you can delete or remove them without much of hard work.
You might think that its not a big deal as we can look for such files manually also. But what makes CloneSpy worth trying is that it can find all the duplicate files on your system, even if they are saved with different file name. Now, you must be raising your eye brows.
Using CloneSpy is pretty much easy. Click on "Add Folder" and here you have to select the folder that you want to search for duplicate files, and then click on "Start Scanning" button on the main panel. Within few seconds it will show up all the duplicate files in that particular folder. Then you can delete them or keep them. CloneSpy allows you to customize your search as per your requirement.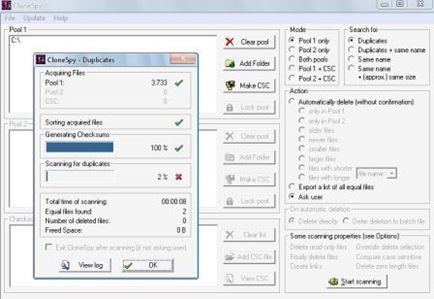 CloneSpy provide you with an option of replacing all the duplicate files with the shortcuts directing to the main file. If you are worried about the disclosure of your personal information through CloneSpy, then you should dust off your worries as CloneSpy does not contain adware or any such programs which would hamper your personal information.
Clonespy is compatible with all the versions of Windows Operating System. You can even create checksum files using this program. CloneSpy successfully scans your hard drive to show up all the duplicate files and the files having same names. Clonespy can prove to be very handy once you start looking for files to delete to free some space on your hard disk. CloneSpy is more than a useful tool, you must try it.