Windows 7 has already created a huge buzz within a week of its official release. Every wants to upgrade their computer or laptop with Windows 7 operating system. But to make the best of this operating system, you need to check with its compatibility. So, How can you test your computer/laptop, to check if its ready for an upgrade to Windows 7? This is the question which is haunting all the minds now.
You can check your computer's or laptop's compatibility with the help of program names Windows 7 Upgrade Advisor. Windows 7 Upgrade Advisor scans your hardware, devices and software installed on your computer and provides a range of help and information to understand how to solve problems and be able to do the upgrade correctly.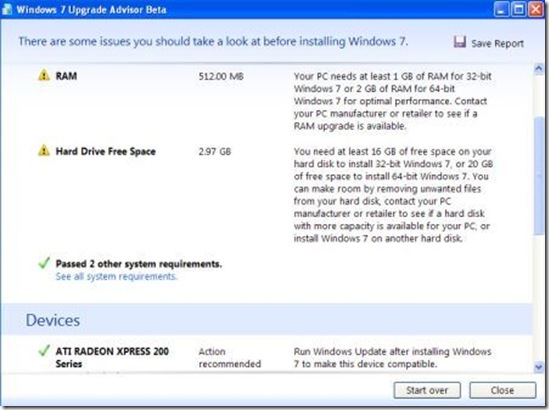 Once you start the program, soon you will have a detailed report of your PC and if it complies with the requirements from Microsoft for installing Windows 7. Using Windows 7 Upgrade Advisor is simple and easy. Just download the program, run it and wait for report containing all the related information.
It provides you detailed information on the compatibility issues with your hardware, devices, and installed programs are found, and gives guidance on what to do to before installing Windows 7 on your PC.
Download it from HERE and check if your computer is compatible to run Windows 7 on it.
Click here for complete guide and instructions for Windows 7.
Click here, to know How to make your own theme for Windows 7.