Canon has added a new member to its PIXMA family lately. Canon PIXMA MX892 is the latest wireless all in one printer in the market which is capable of doing things much more than a conventional all in one printer.
With MX892 at your service, you have an option of sending documents or pictures over the wire or wirelessly to print, scan, fax or copy them. And no doubt, a wireless printer does reduce your manual efforts of connecting it over LAN and checking its connectivity with other computers on the network.
Coming to its cartridge system, you would be thrilled to know that PIXMA MX892 features ChromaLife 5 ink system which is capable of printing images at a resolution of 9,600 x 2,400 dpi, and mind you, that is thoroughly impressive.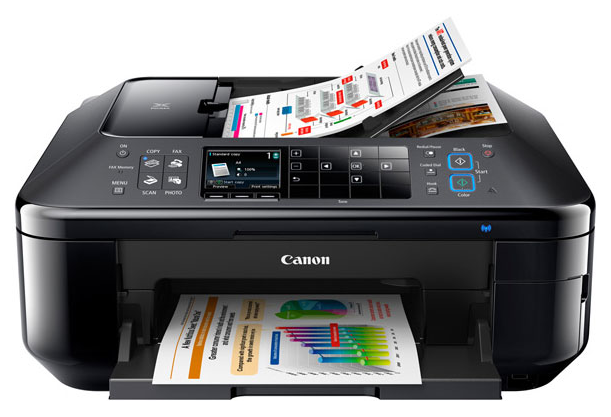 Apart from its printing, scanning, copying and faxing capabilities, Canon PIXMA MX892 features things like automatic document feeder, wired and wireless connectivity options, LCD panel, Ethernet networking, many other options.
Superior print quality is something that Canon would like to boast about PIXMA MX892. You will get incredible output from this all in one printer which would stand by to its price. Whether it would be textual or graphical documents, images, or posters, its crisp print quality would impress you.
Like every other all in one printer, its printing speed is something which would compel you to ask questions. A normal low graphics Word document would take around 20 seconds to complete its job, which is very slow compared to other PIXMA printers.
And wireless printing jobs get more sluggish. The first print out would take a lot of time because it takes around 40 – 60 seconds to warm up. But once your are through with first print out, things get swifter but not very swift though.
In addition to its inbuilt card reader, Canon PIXMA MX892 is also lets you use AirPrint and Google Cloud Print giving few more options to your printing.
Overall, Canon PIXMA MX892 is a pretty good deal if you are looking for an affordable wireless all in one printer. Its number of features are overwhelming compared to the price tag it has. And if you are sure that printing speed is not a concern, then this all in one printer is a pretty good option for you.