I have decided to come up with different compilations on BlackBerry 10 tips and tricks. These could be shortcuts, tips & tricks and features. But the fact of the matter is that we would be coming up with posts which would help you use your BlackBerry 10 better.
One of the things that the BlackBerry fans have been always missed is some gesture magic. When people with Androids and iPhones do some touch screen touch screen trickery, a BlackBerry user just sits and stares. But not anymore.
With BlackBerry 10 gestures, you would be doing things that probably Android and iOS users won't be doing. This itself sounds cool, right? Lets dig into it.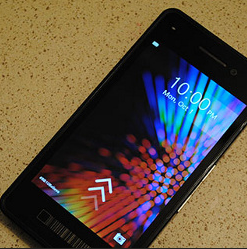 BlackBerry 10 Tips And Tricks – Gestures Guide
Unlock Your BlackBerry
This gesture is known to everybody, and its the universal way to unlock touch screen smartphones. Just for the sake of records, in order to unlock your BlackBerry 10, all you need to do is swipe the display from the bottom towards the top, and that is it.
Notifications
For getting on to notifications, all you need to do is swipe from bottom to top once the screen is unlocked, and it would take you to Notifications.
Inverted L
This is one of the Unique BlackBerry 10 gesture. While you are on an app, you can get on to the BlackBerry Hub just by making an Inverted L on the screen i.e. swipe from bottom to top and a slight right, that is all.
Get The Keyboard
What would you do to get the keyboard on your display? All you need to do is swipe from the bottom of the screen using two fingers as if its hidden there and it would pull the keyboard and place it on your screen. Simple, right?
Shortcut For Basis Settings Menu
There are few Settings option that you might have to check with frequently such as, Bluetooth, WiFi, Alarm and few more. To check them, all you need to do is swipe from top to bottom and you would be shown with Notifications and shortcut to those Settings option.
Side Swipe
This is again one of those gestures which cannot be found on Android os iOS paltforms. You can swipe sideways like you do on image gallery to switch apps. And I bet that's pretty handy.
Turn Off Screen Gestures When Phone Is Locked
You can see that there are some gestures which do not need your screen to be unlocked. So, if you are worried if you would trigger those gestures accidentally, then you can turn such gestures off by navigating as Settings > Display and then selecting the option, Allow Gestures when Locked to OFF.
http://www.pocket-lint.com/news/49647/blackberry-z10-tips-and-tricks-blackberry-10