Digital music is ruling the world. Now I hardly see anybody using Walkman or Portable CD Player. These things are not only out of fashion, but they are also out of tech world. So, have you ever wondered or tried if you can connect iPod to car stereo. Not just iPod or iPhone, may be connecting MP3 player to the car music system?
We would be sharing some good means to connect your iPod to your car stereo so that you can listen to the digital music stored in your iPod on your car's music system.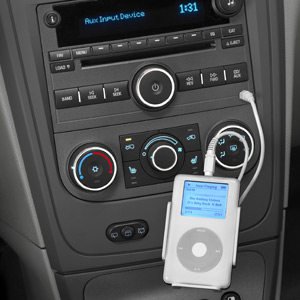 Best Ways To Connect iPod To Car Stereo
Auxiliary Port
If your car stereo has an auxiliary port (most of the modern car music systems have this port), then this is the safest, and the cheapest means to connect your iPod to stereo. It hardly takes any time because all you need to do is connect the cable (which would cost you around $2 – $3) to the stereo and then to the 3.5mm jack of iPod. That is it!
But what if you do not have an auxiliary port installed with your car stereo? Then no worries, you can easily get it upgraded and have a complete mobile audio system for not more than $60 – $70.
iPod / MP3 Player Adapter
Now, the above auxiliary ports wont charge your iPod or MP3 player. So this stops you from using them when you are on long trips. And if you have adapter specific to your iPod or MP3 player, then you can connect them to the stereo using auxiliary port and also get them charged simultaneously.
Cassette Tape Adapter
This is one of those technologies which stuns you like anything. I believe that this is the cheapest way to get connect and play your iPod on your car stereo. It wont charge me more than $1 or $2. All you need to do is connect your iPod to this cassette and then play it like any other normal cassette.
Apart from these there are many other ways to connect iPod to car stereo which are FM transmitter, Bluetooth and few more. If you play iPod on car stereo by any other means, then do share with us.