Make some noise for the biggest and best Belkin Sale. You can avail 50% off on all Belkin products which are available at Belkin.com. And the best part about this sale is that there are no hidden rules and regulations.
This great Belkin Sale is valid for all the products available on their official site and there is no minimum limit on your purchase. You get off on any thing and everything you buy.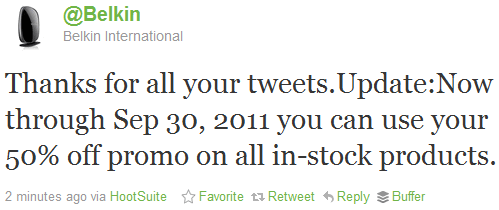 While buying products on Belkin, you need to use the code as FB50 and you would straight become eligible to its 50% sale. Hurry I would say, because this offer would end on 30th September, 2011.
Belkin is primarily known for its networking products. And it also manufacturers accessories for devices like, iPods, iPhones, laptops,  netbooks.
If you have been thinking of buying any Belkin product lately, then this is best time to grab it. Initially, there was no official word on it but Belkin has confirmed on the Twitter saying, Thanks for all your tweets. Update: Now through Sep 30, 2011 you can use your 50% off promo on all in-stock products.
So just get to the online store of Belkin, browse around and buy the Belkin products on 50% off before the stock ends and offer lasts.
Happy Shopping!