Here is a latest gaming desktop computer in the market namely, Asus ROG CG8565. There is an obvious reason why Asus has been hyping much about this assembly.
Asus ROG CG8565 is meant for hardcore gamers and that is what its technical specifications suggest. With powerful Intel Core i7 processor, it is meant to offer you sheer power.
With technologies like, liquid cool processor, this supports non stop gaming which requires superior gaming experience. Below are its tech specs. And its 4.20 GHz processor can be further overclocked to 4.40GHz or 4.60GHz.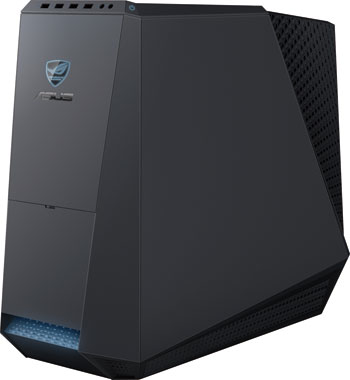 Specifications of Asus ROG CG8565
4.20 GHz Intel Core i7 2600K quad-core processor
ROG Maximus IV-class motherboard
 16GB-1600MHz DDR3 memory
80GB + 80GB solid state drive
Dual 1TB HDDs
 NVIDIA GeForce GTX 590 dual-GPU graphics card
Blu Ray burner
Asus Xonar DX 7.1 channel sound
2 x USB 3.0 ports and 2 x USB 2.0 ports
There has been no official word on its pricing and availability but Asus ROG CG8565 surely looks like a beast of a gaming desktop computer on paper.