What exactly do you look in a gaming laptop? Well there would be number of factors which matter when you are looking for a gaming laptop which are, display, processor, graphics, and battery. In this post we would be talking about Asus G74 and Alienware m17x.
I need not tell you about the credibility of Alienware laptops as they are meant for gaming. And Asus G74 is no less than Alienware m17x on paper which makes it a real threat to Alienware market of gaming laptops.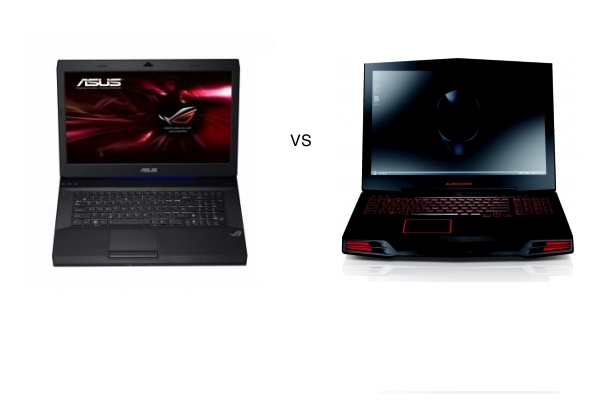 Asus G74 vs Alienware m17x – Compare Specs
PROCESSOR
This is one of the few sections which make you believe that there isn't much of difference between Asus G74 and Alienware m17x. Both these gaming laptops run on latest Sandy Bridge quad-core Intel Core i7 or i5 processor. Asus G74 has number of models with different processing speeds where as Alienware allows you to customize the whole setup.
DISPLAY and GRAPHICS

Both these gaming machines feature 17inch display screen. And no gaming laptop is tagged as one without a powerful graphics card. Both these Asus and Alienware machines feature ATI Mobility Radeon HD or Nvidia GeForce GTX graphic cards. G74 packs Nvidia GTX 560M where as m17x features Nvidia GTX 460M with a 3D vision kit.
Although if you do not need 3D kit, you can get rid of it. And Alienware m17x also lets you choose between Mobility Radeon 6870M or the 6970M if you do not prefer to have 3D vision kit.
RAM
Now apart from powerful processor and graphics support there is one more thing that adds credibility to any gaming laptop that is RAM. Both these laptops support upto 8GB of RAM. Asus G74 comes with 8GB of RAM but if wish to have 8GB of RAM with m17x then you might have to shed your pockets little bit.
BATTERY, SOUND AND MISC
Both these gaming laptops offer 4 USB ports each, Bluetooth and WiFi connectivity options. Apart from these basic connectivity options, G74 and m17x packs a DVDR burner. And it you want, you can also go with Blu-ray combo with Alienware m17x.
Both these gaming laptops have inbuilt speakers but, G74 comes with built in sub woofers. Now, this is something which would thrill music lovers.  Gaming laptops never promise high battery life while playing games as it is resource consuming activity.
DESIGN
Both have got classy design which would surely catch some eye balls. But Alienware wins this part of the race because it lets you customize your laptop in so many ways. Apart from black, it is available in lunar silver, space black, and nebula red color schemes. m17x also lets you have a laser-engraved name plate.
CONCLUSION
Alienware has always been on the higher side whenever it comes to design, power and price. But this time around Asus G74 has surely put itself in the race. It might not offer you with so many options of customization but its company defined specs would live up to the expectation of a gamer looking for a power gaming laptop.