Archos is huge name in the market of Internet tablet PCs. And ARCHOS 70 Internet tablet is one powerful Android device by them. With ARM Coretex A8 processor, Archos 70 is meant to perform seamlessly. There are two versions of Archos 70 available in the market. One is with Flash memory and the other one is with 250GB of hard drive.
Archos70 is powered by OpenGL ES 2.0 graphics accelerator which lets you experience amazing 3G gaming. Technically, this Archos Internet tablet is a powerful device. It is capable of playing almost every video format that you know which include, AVI, MP4, MKV, MOV, WMV, MPG, PS, TS, VOB, FLV, RM, RMVB, ASF and 3GP.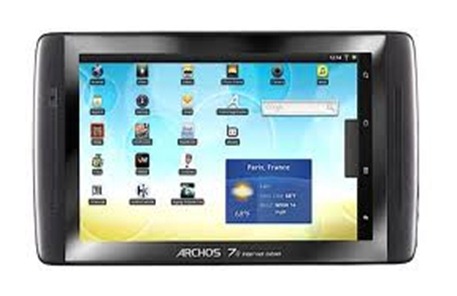 Here are the specifications of Archos 70 Internet Tablet PC:
1GHzARM Cortex A8 processor
7 inch capacitive multitouch screen with picture resolution of 800 x 480 pixels
Storage capacity of 250GB
OpenGL ES 2.0 graphics accelerator
USB 2.0, Webcam
WiFi (802.11 b/g/n), Bluetooth 2.1 EDR
Battery: 36 hours for Music playback time, 7 hours for Video playback time, and 10 hours for Web surfing
Dimensions: 201 x 114 x 14 mm
Weight: 400 grams ( Hard Drive version ) and 300 grams ( Flash version )
ARCHOS 70 internet tablet Hard Drive 250GB version comes with a price tag of $349.99 and ARCHOS 70 internet tablet Flash 8GB version has got a price tag of $274.99. The best part of Archos 70 is the fact that it comes with number of amazing applications which make it a powerful Internet tablet PC.