This is one the most interesting photo sharing app I have ever come across and I would like to recommend it to anybody using iPhone or iPod Touch. There is no doubt about the fact that services like Skype, Viber and WhatsApp have virtually brought people close to their friends and family regardless the distances.
Have you ever thought of having a photo album being shared with a group of people in real time? How about having a photo album on every body's iPhone which would have same photos? I mean, if one adds a photo, then others get to see that photo too. Its like real time photo sharing.
Albumatic is the app that I have been talking about. You can make a photo album using this app on your iPhone, and add your friends to the group. And by doing that, all the people who have been added would be able to see the photos as well as add the new ones.
No matter how far all your friends are, you people can still share your pictures in one single place. And the fact that photographs let you tell your friends what you are up to in a better way.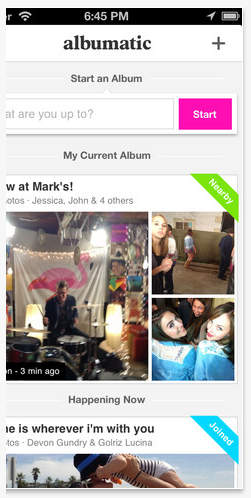 Below are some of the features of Albumatic:
Start albums for your friends to see

Your friends nearby can join your albums & add photos
Friends who aren't nearby can watch your albums in real-time
With Albumatic, you can have a social network kind of thing of your own where you will have nobody other than your chosen friends and nothing but the pictures shared by everyone. Its definitely a must have app for all the iOS device users.