WhatsApp is undoubtedly THE BEST messaging client available for Android. But at the same time, there is a huge group of Android users, who would easily switch to some other app because of number of reasons.
Few of the reasons which could be pushing you to switch to some other messaging service are, its LAST SEEN feature, any body can simply save your number & check out your display picture, heavily crowded. You are surely a part of the group which is looking for a better or may be a good alternative to WhatsApp.
In this post, I have compiled a list of some of the top alternatives to WhatsApp for Android devices.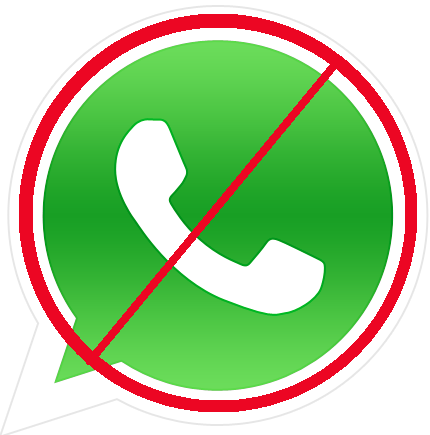 Top Free Alternatives To WhatsApp For Android
Facebook Messenger
There isn't a question on the fact how popular Facebook is. Considering the general scenario, we have almost all our friends added as our Facebook friends. And this particular app brings a convenient way to chat with your Facebook friends.
Google Hangouts
Google isn't far behind in this particular category too. When it comes to video chat, I cannot think of a better means than Google Hangouts today. And if you get used to it, then using it for normal texting won't be a bad option for you. But its video clarity is surely its USP.
Hike
This is another interesting WhatsApp alternative that we have. If you liked the WhatsApp's LAST SEEN feature, then you would be glad to know that its there on this app too. And its other features include, Stickers, sleek design, Hike Offline does make it a must check out chatting app.
IMSY
It might be new, but is surely a pretty good prospect for WhatsApp alternative. With features like unlimited messaging, emoticons, picture messaging, group messages, offline messages makes it a decent option.
Kik Messenger
I have been using this particular app since last two months and have liked it a lot. May be it does not have a wide range of smileys, buts its addons like photo bomb, #gif makes this a complete free messaging client. May be it won't show you if the other person is online or not, but if that is exactly what you were looking for, then go for it. Its fast, and simple.
Line
This is another one of the most popular WhatsApp alternatives available. This is basically a chat client with stickers. Its available for all the mobile platforms as well as computer which gives it an upper hand. Not just texting, this app can be used for making free voice and video calls and the fact that it runs on desktop too makes it a great way to have video conversations.
Tango
This is another messaging app which has reached pretty good popularity heights lately. With over 160 million user base, it surely is one of the best messaging apps in the market. Its GROUP CHAT feature lets you add 50 people to the group. Its other interesting features include, finding people in the near by areas and chatting with them, sharing songs using Spotify, personalised animations, and much more.
WeChat
Some say that its rigorous publicity is the main reason behind its 300 million user base, but one should not take away the credit from its functionality. It allows you make free calls, send voice messages and do texting. Its features like chatting with people in nearby areas, walkie talkie mode and many more does make it a pretty good alternative to WeChat.