If you are a traveller, then you look to take as much help as you can, provided you can easily carry it. And this makes Android apps the best thing to have as you can make them sit on your device ( as many as you like).
In the below list, I have tried to put in all the necessary apps together so that you can find help in almost all of the travelling aspects. Whether it would be maps, finding places, or language help, these apps would prove to be of great help while you are travelling. And in order to ensure that you have a memorable trip, you have to have these apps on your Android device.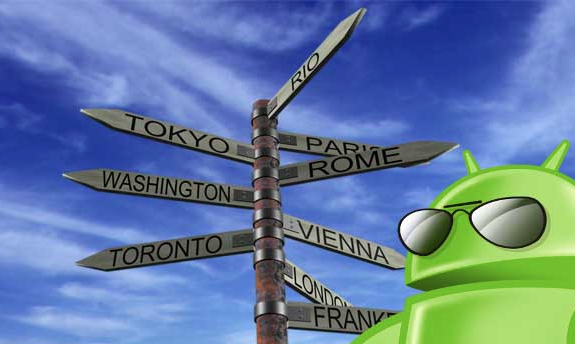 7 Free Android Apps For Tourists – Free Android Travel Apps
Its a straight forward app which lets you convert currency. Whether you are out shopping or having food at a restaurant, this app lets you have a clear picture of how much you are spending.
A must have app I say. Now you need not carry all the bills and receipts as this app is capable of doing that. It can be used to scan long receipts and manage your finance. You can also sync your credit card / band accounts with your Expensify account and trust me, many of your finance managing woes would be solved by this app.
A couple of years back, when I first heard about this concept, I was thrilled and its reality now. Using this app, all you need to do is take a picture (it could be a building, picture, QR code, landmark) and this app would look for it in is database and would give you the info that it has. A pretty useful app to have on a foreign land.
I have listed an app to find translated words. But if you wish to speak in some foreign language (atleast you can try), you need to have this app installed. Instead of going on to the web page, having an app for the same is always good.
Tourist Language Learn And Speak
When you are on a foreign land, knowing few words like taxi, bus stand, train, airport, restaurant, food, drinks etc would help. This app would offer you this help in many languages like, Spanish, Portuguese, Polish, German, French, Italian, Chinese, Korean and Japanese. It runs on open community so you can see more languages and words coming into it every day.
I would definitely label it as the best Android app for a traveller. Whether it would be your first trip, or 100th trip, you just need to have this Android app. All you have to do is forward your travel information to it and it would organize and plan your whole trip and forward it to you. Yes, once you get the plan, you do not need an Internet connection to access it. And the fact that it lets you add more things to your plan manually makes it an incredible travel app.
Whenever you are visiting a place for the first time, you usually browse Internet to find out the best restaurants, bars, malls in that area. So, how about having an help which would let you find the best in the area? If it sounds good to you, then just plug it in.
You will surely