When it comes to ebook readers, there is no better device than Kindle. Whether it would be price, display or accessibility, Kindle ranks right at the top in the list of ebook readers. And with Kindle Fire, Amazon is trying to keep up with the increasing competition in the market of ebook readers.
When it comes to technical specifications, Amazon Kindle Fire is surely not as superior as any of the tablet PCs in the market, but if you are looking for just an ebook reader, then Kindle Fire is THE device for you.
We have compiled a list of best free apps for Amazon Kindle Fire. This ebook reader runs on the customized version of Android OS, which I believe is a smart move by Amazon which makes Kindle Fire one of a kind.
Although it runs on Android, it does not mean that it supports each and every app on Android market. So, this list of free Kindle Fire apps would help you pimp your ebook reader.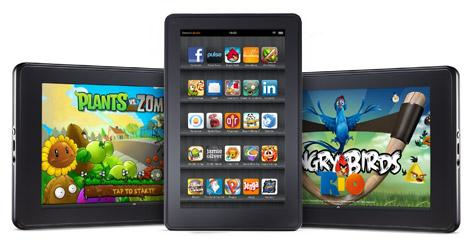 7 Best Free Apps For Amazon Kindle Fire
ANGRY BIRDS
Its been a while that I have not seen an Android device without Angry Birds installed on it. You can straight away download and install the free version of Angry Birds on your ebook reader as it is an amazing game to kill time.
COUPONS APP
I would like to label this free Android app as THE BEST free app for Kindle Fire. Using this app, you can see if you can buy books at discounted rates. And would more could you ask for, a free app fetching you good discounts.
EASYTETHER
Now if you wish to share the Internet connection between your Kindle Fire and computer, then EasyTether is a must have app for Kindle Fire. This app offers an easy way to tether your Android device to your computer.
EVERNOTE
I am not sure if there is any better application better than Evernote, when it comes to notes making. Evernote is a must have app for Kindle Fire. And the fact that it lets you save stuff on cloud makes it more powerful app.
HOOTSUITE
This app brings the social networking world at your disposal. Once you get this app installed on your Kindle Fire, you get to access social networks like Facebook, Twitter, Google Buzz, Foursquare.
LOOKOUT SECURITY AND ANTI VIRUS
Now keeping a device free from virus, spam, malware and other security hampering digital parasites is a useful and critical task. So having something installed on your device which would take care of these activities is always beneficial.
WiFi ANALYZER
Well, WiFi is one of the key features of Kindle Fire and with this free Android app you get the complete details of WiFi signals that you ebook reader can use at any given location.