Now, if you own a MacBook Pro or MacBook Air, you might have surely looked for its accessories to pimp it as adding spice is always good. These accessories for MacBook will make it more useful and efficient. These are one of the most expensive laptops in the market, and tapping the best out of it wont hurt you.
Whether it would be power or looks, these laptops are absolute killer. Yes, you do not need any extra stuff to make them usable but having accessories will make them more useful and some of them protects it from dust and stuff.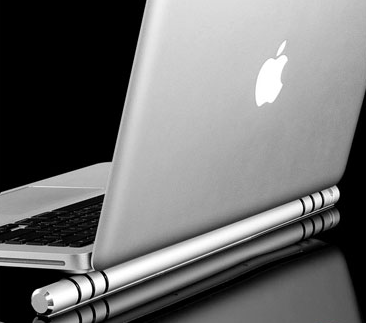 6 Best Accessories For MacBook
BAGS
The basic thing that you need for you MacBook is a good looking bag. I wont say that a good bag completes a laptop but a stylish laptop bag is what every Mac owner needs. Now it is totally upto you the kind of bag you want. You can get, leather bags, stylish messenger bags, good looking fabric bags for your MacBook. But make sure that you check with the size and go with the one which fits your Mac properly. Any thing bigger or smaller will turn into nothing but waste.
COOLERS or STANDS
Most of the MacBooks are still facing the overheating issues. So, having coolers or stands help you to keep your Mac a bit cooler which directly improves its life. So, this is recommended for the people who use laptops for quite good amount of time. We have shared ways to prevent overheating of MacBooks.
EXTERNAL SPEAKERS
If you are a music lover, then I would recommend you to get external speakers. It is not that MacBook's inbuilt speakers not bad. More is the sound, better you can rock. Manufacturers like JBL, Sony, Bose have their speakers specially meant for Macbooks.

KEYBOARD COVER
You get non sticky, transparent, washable keyboard cover for MacBooks. These covers do not hamper the look of the gorgeous backlit keyboard and at the same time protects it from unwanted stuff.
SCREEN GUARDS
The display screen is one of the most impressive feature of MacBook Pro and MacBook Air. And this makes it necessary to protect it from dust. So, screen guard is like one of the first thing that you need to buy once you buy a MacBook. And it is highly advised to protect your Mac's screen.
SLEEVE
If you do not prefer carrying separate bag for your laptop and sleeve is the best option. But make sure that you take the one which fits your Mac exactly as anything smaller or bigger than its size wont help you. Personally, I prefer having it for my Macbook as it allows me to carry it in which ever bag I want.
Apart from the above mentioned MacBook accessories, there is much more MacBook stuff available in the market. If you feel to add something to this list, please do comment and share with us.