It all started with a computer, then to personal computer which evolved into laptops and later into notebooks. Today, we have smartphone and tablet PCs equally powerful like a decent laptops. Now we have convertible laptops or say convertible tablet PCs.
This concept was there even tablet PCs where introduced to us. We always had keyboards available for many tablet PCs, but officially we never had any such device (combination of keyboard and tablet PC) from the maker.
In this post, I have listed some of the top convertible laptops in the market. I have opted to make a compilation of them because these tablet PCs like devices are getting popular each day because of its portability, and power. The below list is in alphabetical order.
Top Convertible Laptops 2012 – Convertible Tablet PCs
ASUS EEE Slate EP121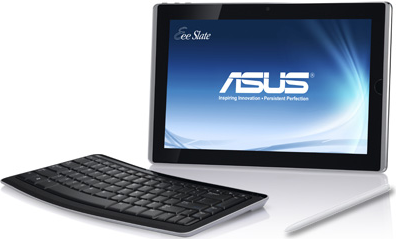 1.6 GHz Intel Atom Z530
Intel GMA 500
1GB DDR2 SDRAM
Display screen of 10.1 inches with picture resolution of 1280 x 800 pixels
64 GB SSD
Windows 7
Battery upto 4.5 hours
Measures 8.16 in (d) x 0.67in (h) x 12.28 in (w)
Weighs 2.56 lbs
Fujitsu LifeBook T731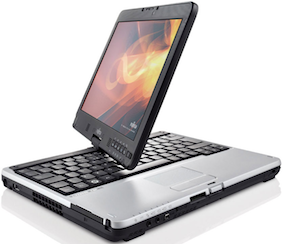 2.93 GHz Intel Core i5-520M Processor
Intel HD Graphics 3000
8GB DDR3 SDRAM
Display screen of 12.5 inches with picture resolution of 1280 x 800 pixels
256 GB SSD
Windows 7
Battery upto 6.5 hours
Measures 9.17 in (d) x 1.49 in (h) x 11.69 in (w)
Weighs 3.9 lbs
HP EliteBook 2760p
2.60 GHz Intel Core i5-2540 Processor
Intel HD Graphics
4GB DDR3 RAM
Display screen of 12.1 inches with picture resolution of 1280 x 800 pixels
320 GB HDD
Windows 7
Battery upto 5 hours
Measures 8.4 in (d) x 1.3 in (h) x 11.4 in (w)
Weighs 3.97 lbs
Lenovo ThinkPad X220
2.50 GHz Intel Core i5-2520 Processor
Intel HD Graphics 3000
4GB DDR3 RAM
Display screen of 12.5 inches with picture resolution of 1366 x 768 pixels
320 GB HDD
Windows 7
Battery upto 9 hours
Measures 9 in (d) x 1.1in (h) x 12 in (w)
Weighs 3.9 lbs
Panasonic Toughbook C1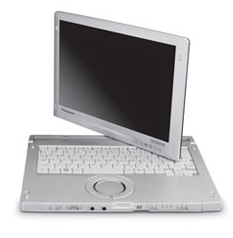 2.4 GHz Intel Core i5-520M Processor
Intel HD Graphics
2GB SDRAM
Display screen of 12.1 inches with picture resolution of 1280 x 800 pixels
250 GB HDD
Windows 7
Battery upto 5 hours
Measures 8.9 in (d) x 1.2 in (h) x 11.8 in (w)
Weighs 3.2 lbs