Despite the recent release of LEGO's Marvel Avengers and the announcement by Telltale Games last year that they're partnering with the comic book entertainment juggernaut for a major console title, Marvel has developed a somewhat-questionable reputation for mainstream gaming. That is to say they haven't really lived up to the popularity of their films with compelling releases for consoles.
Where Marvel has thrived is in allowing various sites and developers to use its characters in the creation of mobile games. They may not possess the size and scope of what we hope to see in the Telltale Games title in 2017, but a lot of these mobile games do a great job of letting players in on the action with their favorite superheroes. And these five titles prove the point.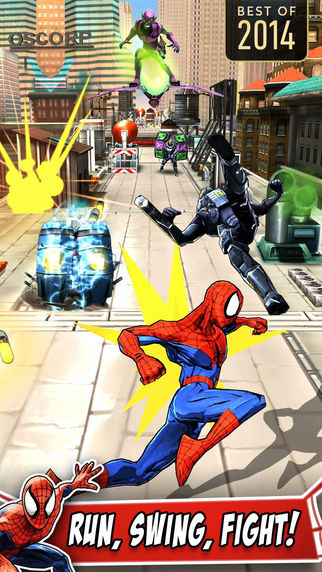 Spider-Man Unlimited
This is one of several official apps by Marvel, and it may just be the best of the bunch. Spider-Man Unlimited follows the endless runner format made popular by the likes of Temple Run and its sequels. But in this game, you control various versions of Spider-Man swinging and dashing through comic-book settings and pummeling classic bad guys on the way. It's a fun game simply in terms of activity, but it's really the comic book atmosphere that sets it apart as a great achievement in mobile design. The comic-style art and the banter of Spidey and his foes will get you hooked.
Marvel: Contest Of Champions
Another official Marvel app, Contest Of Champions has become one of the most buzzworthy Marvel games in recent memory, largely because it's spawned its own comic book. Comics are currently being written based on the concept of the game, which is that various super villains from the Marvel universe have captured a huge range of heroes and villains alike, and they're pitting them against one another in a gladiator-style showdown. As for the game itself, it's basically a standard brawler. But the endless missions, the ability to connect with an alliance of other players, and the chance to collect new characters to fight with keeps it interesting.
Marvel: Future Fight
Future Fight is a lot like Contest Of Champions in that they seem to have relatively similar updates, most notably introducing new characters alongside one another. The gameplay, however, is vastly different. You'll still be working to obtain and improve various characters from the Marvel universe, but the action is RPG-style in this one, as you work to fulfill a mission from Nick Fury—stop the multiverse from collapsing and, you know, save the world.
The Incredible Hulk Slots
The Incredible Hulk is actually part of Gala Casino's mobile selection, rather than a standalone game, but it serves to emphasize just how much variety is out there with Marvel titles for mobile use. This game uses wonderful graphics inspired by the Hulk films (specifically 2008's The Incredible Hulk) to set up a vibrant and engaging background to its slot machine wheels. In execution, it's a familiar arcade version of a slot machine, but the Hulk's involvement makes it a treat for pretty much any Marvel fans out there.
Iron Man 3 – The Official Game
Plenty of film-based games could have been slotted into this list, but as one of the more recent ones and arguably the best, this deserves to be highlighted. One of many impressive apps by Gameloft, Iron Man 3 is based directly on the events of the film of the same name, and excels largely due to pure beauty. Flying around as Iron Man among stunning graphics is just a satisfying experience, and this game also did well to build up side elements to make for more dynamic gameplay. For instance, you can run certain aspects of Stark Industries and put together new Iron Man suit designs in the process.
If you look around, you'll find there are actually a ton of mobile games that are either directly or indirectly related to Marvel. But these five are certainly among the best. They also make a strong statement regarding Marvel's commitment to gaming, even if they haven't been great at the console level.