Android market is flooded with smartphones and we witness dozens of brand new smartphones hitting the market every month. And it has been a similar story ever since this incredible operating system has been introduced to the technology world.
Manufacturers and the buyers are in equally love with Android. The fact that companies come with more and more designs every week, and its solid sales record is testimony to its popularity and capability.
In this post, I have compiled a list of best smartphones with high end cameras. If good camera is one of the deciding factors for you while buying a smartphone, then this list of high end camera smartphones would surely impress you.
I won't be discussing much on the overall specifications of any of the smartphones, as the primary purpose of this post is to introduce you to the photography capabilities of this smartphone.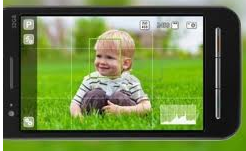 5 Best Smartphones With High End Cameras
Samsung Galaxy S2
There are so many factors at which Galaxy S2 excel. Whether it would be its incredible screen, powerful processor, or high end camera. Samsung Galaxy S2 features an 8 megapixel camera. With features like LED flash, autofocus, Smile Detection, image stabilization, Touch Focus, Geo Tagging.
All these features let you make the most of its powerful camera. With the video quality of 1080p, you can record videos at superior video quality.
Apple iPhone 4S
In my opinion, Apple did not gave much of attention to its camera. But this was the first time I actually found Apple introduced a camera which can compete with the cameras of its counterparts. Its 8 megapixel camera with features like LED flash, auto focus, Geo Tagging, face detection, touch focus.
Once you try using its camera, you would realize that its capability is much more than the ones existing in the market. It is capable of recording videos at 1080p HD. And by the virtue of LED video light and video stabilization, you can tap in the best of its camera.
Motorola RAZR XT910
This Motorola smartphone is one of those smartphones which initially came into the market with 8 megapixel camera. Just like all the other smartphones listed here, it is also capable of recording videos at 1080p of video quality. Its other camera related features include LED flash, image stabilization, auto focus and geo tagging.
Samsung Galaxy Note
Samsung has established in dominant existence in the market of smartphones. Galaxy Note is the prove of the mentioned fact. Its 8 megapixel camera is good enough to unleash the photographer inside of you. In addition to its video recording capability at 1080p, features like auto focus, geo-tagging, LED Flash and face and smile detection make it a powerful camera. Galaxy Note is about more than taking photographers as it lets you take snaps and scribble on it using its stylus.
Nokia N9
I have been a huge fan of cameras featured in Nokia phones since years and have always believed that when it comes to camera, the choice should be Nokia (hands down). But the times have changed since the emergence of Android. Its 8 megapixel camera packs Carl Zeiss lens which would let you capture picture perfect photographs. Its other features include auto focus, dual LED flash, geo-tagging and face detection.