Trust me, every gamer prefers playing games on desktop computer rather than on any laptop, no matter how powerful it may be. Playing games on desktop computers is far more comfortable and offers better gaming experience.
I have compiled the list of best gaming desktop computers of 2012. If you are having any plans of buying one, then this list would prove to be of great help.
There are hundreds of good gaming machines available in the market, but choosing the one which would serve you well is a huge task. This compilation of good gaming computers would surely help you make a better decision.
I have already shared a lists on best gaming laptops and budget gaming laptops. Its time for gaming desktop computers of 2012 (in alphabetical order).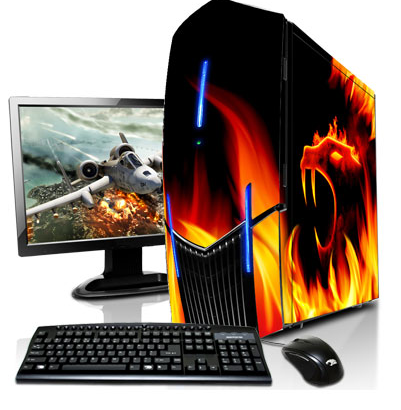 5 Best Gaming Desktop Computers 2012
Alienware Area-51 ALX
3.33 GHz Intel Core i7-980 processor, 6 cores and 12 threads
6 GB of DDR3 RAM
2 TB of HDD
Dual ATI Radeon HD 6870 CrossfireX graphics
2 GB of Video RAM
7.1 HD Surround Sound
XDJ4C Alineware Area 51 ALX motherboard
9 USB ports
CD/DVD Burner
CyberPower PC Black Pearl
3.33 GHz Intel Core i7-980X processor, 6 cores and 12 threads
12GB DDR3 RAM
Primary Storage – 80 GB SSD
Secondary Storage – 1 TB HDD
MSI X58A-GD45 X58 mother board
Dual NVIDIA GeForce GTX 580 graphics support
6 GB of Video RAM
7.1 HD Surround Sound
Blu-Ray
10 USB ports
Digital Storm ODE Level 4
3.2 GHz Intel Core i7 3930K processor
16 GB of RAM
Primary Storage – 120 GB SSD
Secondary Storage – 1 TB HDD
AMD Radeon HD 7900 graphics support
1GB of Video RAM
7 USB ports
Digital Storm Hailstorm
3.2 GHz Intel Core i7-970, 6 cores and 12 threads
6GB DDR3 RAM
Primary Storage – 80 GB SSD
Secondary Storage – 1 TB HDD
ASUS Sabertooth X58 mother board
Dual NVIDIA GeForce GTX 580 graphics support
6 GB of Video RAM
7.1 HD Surround Sound
Blu-Ray
12 USB ports
Maingear Shift Super Stock
4.8 GHz Intel Core i7-3960k processor
16 GB of RAM
AMD Radeon HD 7970 graphics support
Primary Storage – 120GB SSD
Secondary Sttorage – 1 TB HDD
Asus P9X79 Pro motherboard
11 USB Ports
Blu ray