Slowly but steadily, Windows Phone 7 smartphones are entering into the market, and this is making application developers to design Windows Phone 7 apps. So we list out the 5 best and free Windows Phone 7 apps.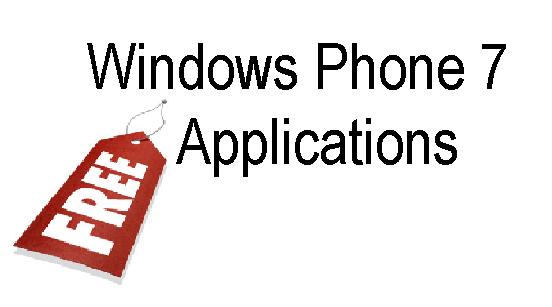 There are number of Windows Phone 7 apps in the Windows Marketplace. So, we have sorted out the 5 best Windows Phone 7 apps, which are free and would surely enhance the utilization factor of your Windows Phone 7 smartphone.
Below are the 5 best free Windows Phone 7 Apps:
Facebook app has become one of those mobile apps, which are must have on any smartphone, and similar is the story with Windows Phone 7. This Facebook App is a free Windows Phone 7 app, which lets you do all the social networking activities that you can do on normal Facebook site which include updating wall posts, uploading posts, adding friends, accessing Facebook apps, and many more. If you are a Facebook addict, then this Windows Phone 7 app would overwhelm you.
We have already wrote a post on 10 best android GPS applications. GPS app is one such application that one always want to have on his smartphone. Google Maps is now officially available as Windows Phone 7 app. And I need not boast about the capability of Google Maps. This GPS app for Windows Phone 7 lets you find your routes anywhere and anytime.
Microsoft My Phone is an highly recommended free Windows Phone 7 app which would make you carefree when it comes to keeping backup of your data, files and other information. This mobile app lets you to back up your phone and password protect it. And it is a multi purpose free Windows Phone 7 app which lets you share images on social networking sites, send text messages, locate your lost Windows Phone 7 smartphone and much more.
Office Mobile 2010 converts your smartphone into a mobile workstation. With this free Windows Phone 7 app lets you access all the Microsoft Office documents on your Windows smartphone. With this mobile app, you can always get your urgent work done when you are away from your workplace.
Solid Internet browser app is another thing that one looks for his smartphone. Skyfire Mobile browser is a fast, safe and reliable web browser for your Windows Phone 7 smartphone. The best part about this mobile app is the fact that it supports Flash, Windows media formats, number of video formats, and all the Web 2.0 standards. This free Windows Phone 7 app is highly recommended for your smartphone.
These were the 5 best free Windows Phone 7 apps for your Windows smartphone which are highly recommended. And regardless your profession, these mobile apps would surely make your life better and are worth having on your smartphone.