Apple is known for its innovative products and I am pretty sure that there isn't any body who would not be left amazed watching Apple products doing their things. This post is about using Apple TV to its full potential.
I would share some tips and tricks for Apple TV which would let you tap the best out of this device. Let me make something clear that this is not about any hacks or cheats, this post is more about using the device to its best without hampering it.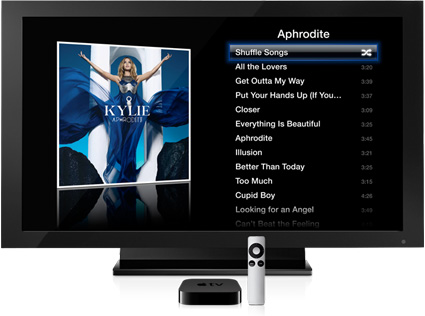 5 Best Apple TV Tips And Tricks
MobileMe For Apple TV
If you can create a MobileMe account for yourself, then you would be a great deal to you. Once done, you can manage all your stuff like email, calenders, photos, etc on a cloud. And then, you can get to access them on your Apple TV. Using it, you can grab a drink, relax in your living room and check out your pictures.
Play Non Compatible Stuff
iMovie is a great tool to transcode the videos which are otherwise not compatible on iTunes. Once you are done transcoding them, you can stream them smoothly on your Apple TV. You can give a try to HandBrake too.
Stream Content Without iTunes And Without Jailbreaking
Now its not necessary to jailbreak your Apple TV to stream any non-iTunes content. There is an app called, AirFlick which would let you play stuff on your Apple TV without jailbreaking it.
Use iPhone As Remote
The remote that you get with Apple TV is not appreciated by everybody around. And it is mainly because of its design and placement of buttons. With Apple's Remote app, you can get hold of your Apple TV on WiFi with greater control.
Jailbreak Apple TV
Just like any other iOS device, you can unleash Apple TV by jailbreaking it. We have shared number of jailbreaking techniques, check them out and get your Apple TV jailbroken. Once done, there are many apps that you can install which will make your Apple TV more powerful.
If you feel like sharing anything about Apple TV, please comment so that your fellow readers can make some benefits out of it.