Yes, Dropbox is surely one of the best things happened to Internet world. It has solved so many problems linked to storage. And here are some of he best Android Dropbox tips and tricks which would let you make the best of this wonderful free online storage service on your Android device.
One of the basic things that bother us on the smartphone is the storage and things like how to store or share files. I hope these few tips and tricks would surely be helpful.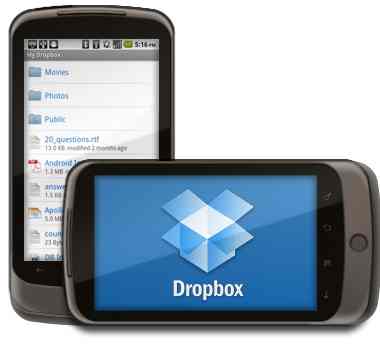 5 Best Android Dropbox Tips and Tricks
Easy Way To Share And Save Apps
Suppose that you have a collection of non market apps and then how would you manage these apps? Well here is an easy way. Just keep all you APK files in one of your Dropbox folder so that you get to access them even them you do have them installed on your device. And you need not always keep those files on your microSD card.
Share Files And Folders
SMSs would just let you share text not files. Dropbox offers you with one of the smoothest way to share files and folders via links. All you need to do is keep your files in your Dropbox folder and you can directly share those files just by sending the users its links. Just hold on the file or folder that you need to share and then tap on the button, Share A Link and the choose the method as Dropbox. Then it would prompt you to enter the recipient's mail address or the phone number and the link would to sent to the destination.
Reader or Viewer

And yes, with Dropbox on Android, you need not use any third party picture viewer or document viewer installed on your device as you can directly view files form Dropbox without these things installed which is a great help.
Use It As Default Storage
Why should you always use your microSD card as a default storage when you can use a safer and more reliable way to save files. All you need to is sync your download folder on Android device with your Dropbox folder so that whatever you download on your Android directly gets routed to your Dropbox.
If you have been using Android for other means too, then please share with us.