People have started thinking beyond conventional LCDs and Plasmas as 3D has hit the local markets nows. Few years back no one of us might have thought of having a 3D television in their living room. But technology has advanced exponentially and here we are. Now you can easily buy a 3D TV and that too at no so heavy price tags.
We have compiled a list of 5 best 3D TVs for 2011. Apart from just the display, we have considered so many parameters while compiling the names of the best in the market. Just keep this list in your mind while you are making a decision to buy the best 3D TV.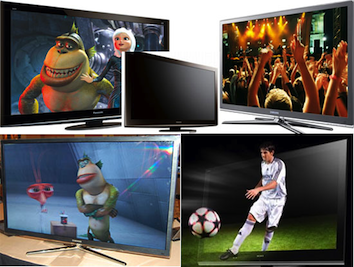 5 Best 3D TVs For 2011
LG INFINIA 55LW5600
We have a gorgeous 55 inch 3D television meant for hardcore movie lovers. This LED HDTV offers you with a display of 1080p at 120Hz and it functions as a Smart TV too. As a Smart TV, this 3D TV lets you access huge number of movies, video clips, apps and lots of digital content. It comes with 4 pair of 3D glasses and with superior image quality, it would surely mesmerize you. Its TruMotion 120Hz technology with LED Plus technology are few of its other highlighting features. Its current market price is $2,399.99
PANASONIC TX-P46VT20B
Whenever it comes to latest technology in the television field, Panasonic is always up there with its amazing engineering and Panasonic TX-P46VT20B is one of its example. This is 46 inch 3D tv based on Plasma technology which makes it really special. And because of this it offers the best 3D and 2D video quality than most of the televisions of this band. It packs number of other features which include USB, SD and DLNA networking, USB recording, and built-in Freeview HD and Freesat HD tuners. And its current price is £1,750.
PHILIPS 46PFL9705H
They call it the best 3D LCD in the market and I hope this gives all the required hype. With a powerful processor, its Perfect Pixel HD technology, with locally dimmed LED backlight, you get to witness something you would never have. It has got nothing less than perfect design which adds so much to its total worth in addition to its superior audio and video quality. With a price tag of £1,959 it surely is an expensive 3D tv but is truly worth your money.
SAMSUNG UN55D8000
Here is another 55 inch gorgeous 3D television which is way awesome when it comes to image quality. With an image quality of 1080p at 240Hz, this 3D LED HDTV offers real delight to your eyes. It comes with 2 pairs of 3D glasses and QWERTY remote control which is another interesting feature of this TV. This 3D TV is also a Smart TV which lets you access tons of digital content on the Internet. With a current market price of $3,599.99 this 3D lies in the the category of high end televisions.
Sony KDL 40NX713
I love the design of this 3D TV which would actually add so much to the atheistic value of your loving room. And even the specifications wise, Sony KDL 40NX713 is right up there. With integrated Freeview HD tuner, this 3D television offers great image quality from almost all the angles. It is packed by some of the amazing technologies that most of the current 3D TVs are missing which include bolt-on 3D sync transmitter which offers crosstalk 3D effects. With a price tag of around £1,000, this might be the one you are looking for.
There are still number of amazing 3D TVs in the market and more and more are coming each day. This does not make these 3D TVs the only good ones in the market. Please do share the ones you have come across and would consider buying them.