Football is the most beautiful game and being a huge soccer fan, I can give you thousand reasons why it is labelled as the most beautiful game. My favorite PS3 and PC game is FIFA and I know there are millions of people who share the same liking.
And whenever I get to check out an Android device, the first thing I usually check is if it has a Soccer game installed on the Android. And if you are such a soccer freak, I have compiled a list of free soccer games for Android.
I love playing games and do not mind flooding my device with games. So, if you have been looking for some free football games for Android.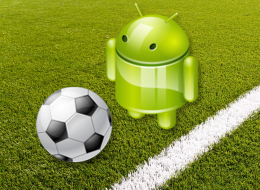 3 Best Free Soccer Games For Android
Football Kicks
This game is equally addictive as cigarettes. No I am not kidding, I am dead serious. You get to play this game in different modes like, Beat the Wall, Beat the Clock and Sudden Death mode. Throughout the game, you earn points which can be traded for kits, stadiums and hair cuts.
Pocket Soccer
This is not exactly a Soccer game for Android, but is equally fun. Actually it is an hybrid form of air hockey and football. You do not play with 11 players in this game, in fact, you have 3 players in each team. It is serious fun playing Pocket Soccer.
Soccer Superstars
Graphically, it wont be the best in the business, but I loved playing it. And I am sure that all the Soccer games lovers would love it too. I loved its game play and its gaming modes, which are Exhibition, My League, Season, Cup and Dramatic Mode.
Android market is huge and if you sit and search, you would surely find number of amazing free games. These are the 3 best free Soccer games for Android that I have come across. If you have found any such equally good or even better football game for Android, do comment and share with us.