We have shared a lot of stuff on QR codes like QR Code readers, creators and much more. Since business cards with QR codes have not hit the popularity yet, you would still be looking for Business Cards scanners for Android. And this post is about the same.
If you have a business card in your hand and wish to save that information on your Android device, then you can use these free Android apps. To be precise, we would be talking about the free apps to scan business cards on Android.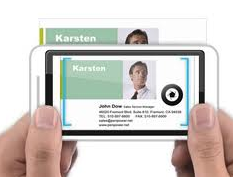 Best Free Apps To Scan Business Cards On Android
CamCard Lite – Business Card R
There are number of magazines and critics, who have labelled this app as the best business card reader for Android. Apart from functioning like any other conventional business card scanner, this application is capable of reading 16 languages. Now that makes it a powerful app. You have to try this app regardless you are in need of such app or not.
Driod Scan Lite
This free Android app is basically a scanner. So, you can use this app to scan any business card, align the image in a way that you can read it without any discomfort. A more than useful application!
ScanBizCards Lite
Snap, Touch and Connect. This is what developers say about this application as it is very easy to use and is super quick. Apart from this, it also offers you with its own cloud where you can sync you data and use it on any Android device or iOS device. So, you can have its image (business cards images) and as well as export data to contacts.
Apart from these three apps, there are many more Android apps available which let you scan business cards with complete ease. If you are aware of any such apps, please do comment and share with us.