Now it is a known fact that iTunes is the leader in the market of legal online music. And this is one of the biggest reason that Google is not able to scrap its use on Android. When you have such dense user base, there is hardly anything that could be done by the competitors.
Personally I have no issues with iTunes because it is one of most finest music playing and purchasing tool available. But due to any reason if you are looking for some good alternatives to iTunes for Android, then here are a couple of them.
So have you ever wondered of a way to access your iTunes music on Android. Yes, I am talking of having an iTunes alternatives for Android, so that you can sync your Android device to your iTunes account and access your stuff.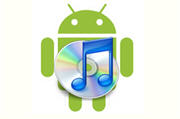 2 Alternatives To iTunes For Android
DoubleTwist
If you have been looking for an iTunes alternative for Android then you must have surely heard of DoubleTwist. Have you ever been struck by a thought of accessing your iTunes content on your Amazon MP3? If you have, then DoubleTwist offers you with the smoothest possible answer.
Every body knows that Amazon MP3 is the second best online music store after iTunes. And when something lets you merge iTunes and Amazon MP3, that surely deserves your attention. And that is what DoubleTwist actually does.
TuneSync
How about syncing your stuff on iTunes with your Android without even enabling any physical connection between your Android device and your computer? TuneSync is the answer for such need of yours. It lets you sync your Android device with your playlist on iTunes.  The only backdrop with TuneSync is that it lets you sync 20 songs at a time with its free version.