All of us love technology and are in some way addicted to it. As the festive season is approaching, it's time to think about gifts for your near and dear ones. Gift shops have lined up the finest products and you would definitely have a tough time choosing the best ones for your loved ones. Are you racking your brains as to what to gift a gadget freak? Here are the choicest gifts that you can find in the market for a gadget lover. Take your pick.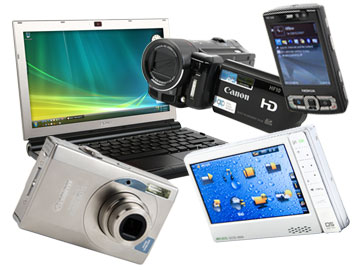 10 Top Gifts for the Gadget Lover
1. iPod Nano
The updated version of iPod Nano is definitely created to attract a few admiring glances. With a more ergonomic silhouette and attractive colors, iPod Nano also comes with an extended battery life and storage space. The additional features are sure eye catching and iPod Nano is all set to win hands down in the Xmas gifts sector for gadget lovers.
2. Apple MacBook
The MacBook comes with thrilling features that any laptop owner would want to own. Very light weight and easy to use, Apple, however, does not compromise on the quality as well. The aluminum shell protects the laptop better than other models in the market. With 2.4GHz Intel Core Duo processor, 250 GB hard drive, 2 GB memory, multi touch track pad, Wi-Fi and Bluetooth, the MacBook is a true winner.
3. Digispeed 4 Ultra battery charger
The rechargeable battery charger is a huge relief for people who always find their battery dead. Digispeed charger can charge up to four AAA and AA NiCd as well as NiMH batteries in a matter of few minutes. With great protection features like safety cut off and faulty cell detection, it's a great gift for a gadget freak.
4. Android device
Android phones are a great option as a Christmas gift for any gadget lover. Some of the top smartphones in the market are Android phones with a set of excellent features.
5. Nikon D3100
A perfect gift for a photographer, this entry level DSLR comes at $650 along with a lens which is much more than what an amateur can ask for.
6. HP Envy 14
With a competitive price point and features that are very enviable, the HP Envy 14 laptop comes loaded with the best features. Anyone who would receive it as a gift would have no reason to complain whatsoever.
7. Xbox 360 with Kinect
This thrilling game console is east to use and controller free. With a built in Wi-Fi and loads of fun, the Kinect brings home games, entertainment and nonstop action to the lucky one who gets it as a gift.
8. Amazon Kindle 3
Light weight, great screen contrast, built in keyboard and Wi-Fi, along with thousands of e-books, it also has great battery life and MP3 to delight an avid reader.
9. Vizio XVT3SV Series TV
The Vizio XVT3SV Series TV stood out for its excellent design, picture quality, great streaming and widget content through a well integrated Apps platform. It also has built in Wi-Fi and Bluetooth remote, all for a reasonable rate.
10. Sony Reader PRS-505
Another great gift for e-book readers, the Sony Reader PRS-505 comes with a direct download option from Sony connect and has a large screen for easy reading. It is lightweight as well and easy to carry around.
Author Bio
Karien is a blogger by profession. She loves writing on technology and luxury. Beside this she is fond of gadgets. Recently an article on concepts design attracted her attention. These days she is busy in writing an article on Sergio Rossi metal shoes.